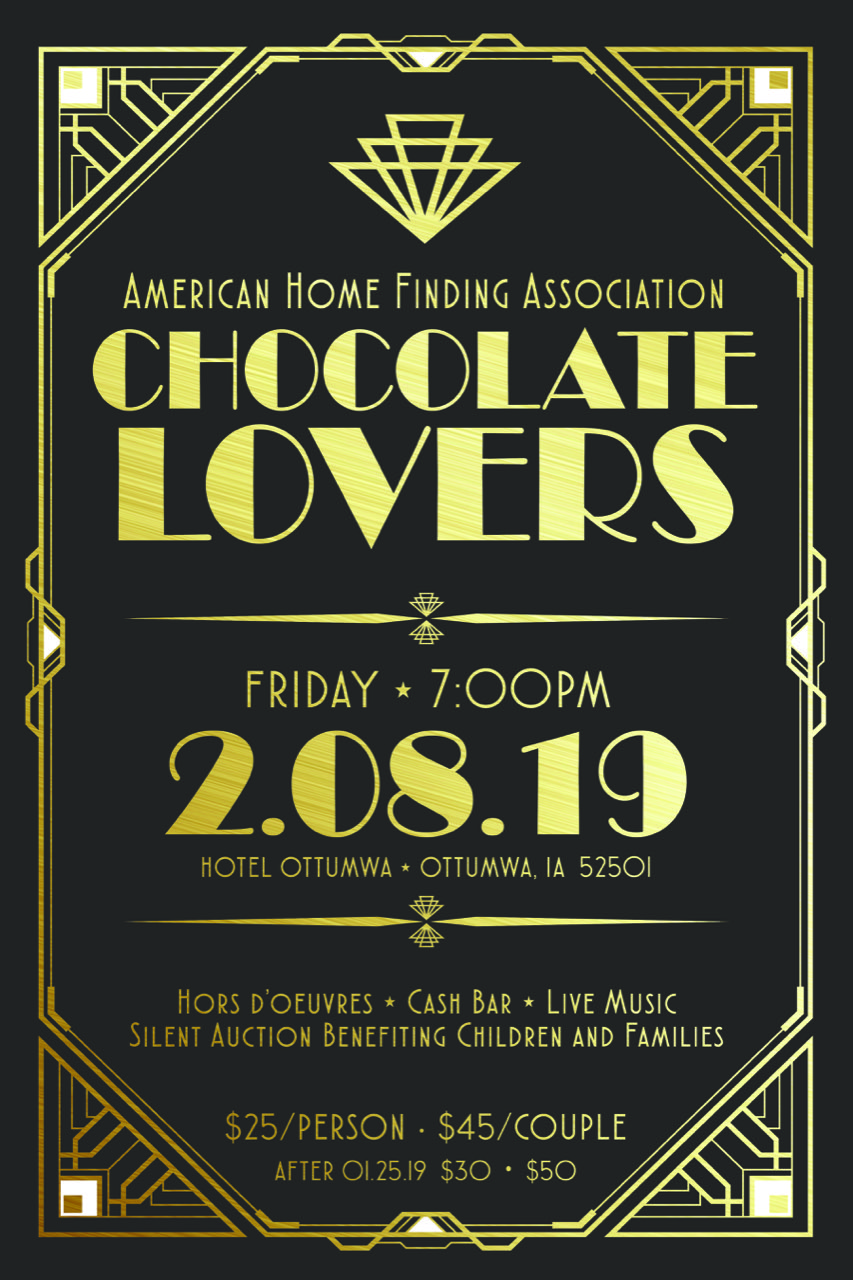 Join us Friday, February 8th at the Hotel Ottumwa the annual Chocolate Lovers event hosted by the American Home Finding Association.  It is the best way to celebrate Valentine's Day.  A local favorite and everyone is welcome.  Attendance has grown every year for this event as each year the decorations and theme rivals the last.  The theme this year is the Roaring 20s.  You will see attendees in an array of attire:  jeans and casual wear, to dressy.  Get your photo taken with your special date, or with your group of friends.  The photo booth is free, and it will be your favorite photo op of the year.
Sez Who will be playing in the ballroom and there will be plenty of room to dance.  This party spreads over the whole second floor of the Hotel Ottumwa.  What keeps everyone coming back year after year?  The food.  Hors d'oeuvres, beautifully displayed will be available in the sweet and savory variety.  Over-the-top displays of delicious food, and of course, the star of the night, chocolate.  Decadent and delicate desserts are featured throughout the night, including a variety of chocolate fountains. A cash bar will be available with beer, craft beers, wine, spirits, and specialty drinks available.
This year's Chocolate Lovers theme is the Roaring 20s. Get your tickets early as there is a discount for purchasing before January 25th.  Only $25 a person and $45 a couple before January 25th; after, tickets will be available for $30 a person and $50 a couple.  Your ticket includes a glass of champagne, or non-alcoholic beverage as you arrive in the lobby. The proceeds of the night go to support the American Homefinding Association.  It is an excellent organization that has benefited our community for many years.  The silent auction is a favorite, known for unique and creative items and packages.  Another opportunity to support AHFA is by enjoying one of the specialty drinks of which the proceeds go to the organization.  Always over-the-top, these drinks always make a statement.
Tickets for Chocolate Lovers available anytime at the Hotel Ottumwa front desk.  Room rates start at only $65 a night for Chocolate Lovers attendees.  Call the Hotel Ottumwa for more information at 641-682-8051.
Click here for the event poster