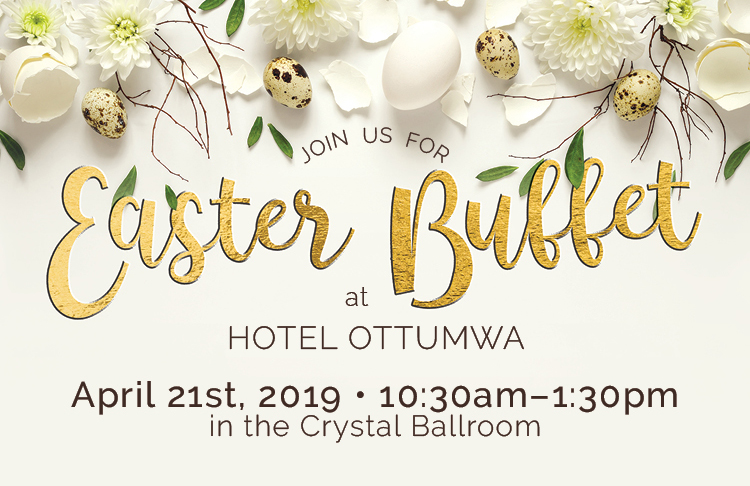 Sunday, April 21st, 2019 Join us for the Easter Buffet at the Hotel Ottumwa.  Your family will enjoy traditional selections, hand-carved roasted meats, lavish hot & cold displays and an array of desserts.  Make it a holiday tradition!  Served from 10:30 am – 1:30 pm.
Carvery & Entrées: Carved Pit Ham, Chicken Marsala, Beef and Noodles, Butterfly Shrimp with Cocktail Sauce and Lemon.
Hot Display: Real Mashed Potatoes and Gravy, Sweet Baby Carrots, Green Beans with Bacon and Onions, Sage Dressing, Roasted Baby Red Potatoes, Traditional Mac and Cheese, and Haute Mac and Cheese.
Cold Display: 30 Item Salad Bar Including Homemade Salads and Jim's Deviled Eggs.
Bread Station • Fresh Fruit Display • Kay's Dessert Bar
There will be a full bar available during the Easter Buffet with wine, beer, and spirits.  Also, enjoy our mimosa special.  $2.95 a glass or order a carafe to share for only $19.00.
Please call 641-682-8051 for reservations. Adults $18.95, 60+ $15.95, Children 12 and under $1.50 per year.  We can accommodate groups of any size.