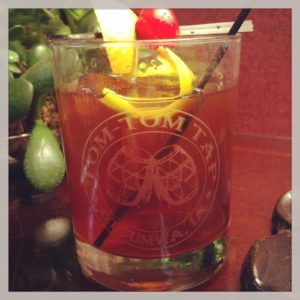 The traditional Tom-Tom Old Fashioned is our most popular drink and the country's oldest cocktail. The history of the Old Fashioned is convoluted and depends greatly on your source. Some say 1862, and some 1860. To use simple syrup? Or a sugar cube? That is just one of many questions. Getting back to what is the "right", or most original, form of the Old Fashioned is the focus of a lot of discussions in a lot of places. Articles abound with pictures of old books, recipes, letters, and newspaper clippings. Check out these "takes" on the specialty drink from Esquire, The Daily Beast, and the New York Times.
Now, we don't want to get too caught up in finding the one, true Old Fashioned; we just want to make one that you will like to drink with us. That's why we created a Choose-Your-Own-Old-Fashioned menu.
With all the twists and turns this cocktail has made through the ages we invite you to give it your own spin. This boozy drink will feature liquor that you like with the mixer of your choice. We then use an ice cube that is not too big and not too small. We won't muddle your fruit unless you ask. You will select vodka, gin, bourbon, or whiskey.
At Hotel Ottumwa, we have been truly enjoying the revival of the cocktail culture, so stop in and create your own tradition – or imbibe a long-standing one.
Tom-Tom Tap Traditional Old Fashioned
1 cube sugar
2 dashes Angostura Bitters
1.5 jiggers rye whiskey
Club soda
Twist of lemon rind
Orange and 2 cherries